Equity and equality are contested terms, used differently by different people. Following Jacob and Holsinger (2008, p. 4) we define equality as "the state of being equal in terms of quantity, rank, status, value or degree", while equity "considers the social justice ramifications of education in relation to the fairness, justness and impartiality of its distribution at all levels or educational sub-sectors". We take equity to mean that a distribution is fair or justified.
Currently, huge societal, economic and cultural potential is missed due to unequal policies and practices of not treating everyone equitably in the education system or excluding them from the system. Compared with the richest children, the poorest children are four times more likely to be out of school and five times more likely not to complete primary education (Global Education Monitoring Report, 2016).
Identity, background and ability dictate education opportunities. In all but high-income countries in Europe and Northern America, only 18 of the poorest youth complete secondary school for every 100 of the richest youth. (GEM 2020)
A research found that the costs of out of school children are as high as 2% – 7% of GDP in some Asian countries. This translates to 6.5 billion USD economic cost in Thailand, 17 billion USD in Indonesia, 1.7 billion USD in Philippines. At the same time, the budget usage for solving the issue is around 1% education spending, even though the research shows that the economic gain from universal primary education exceeds the needed public spending. Education is not only great investment by society, but also powerful tool to reduce socio-economic inequality.
Purpose of this page is to collect the most relevant and recent reports, recommendations, research and articles related to equitable education. Please share your best resources with us! Here you can find few cornerstones to get started and lots of news to continue with!
Inclusive Education
The goal of inclusive education is that the whole education system will facilitate learning environments where teachers and learners embrace and welcome the challenges and benefits of diversity. Within an inclusive education approach, learning environments are fostered where individual needs are met, and every student has an opportunity to succeed. This is opposite to exclusion, where for a reason or another, students are denied access to education. The figure (11.1) showcases different arrangements for arranging education.
"68% of countries define inclusive education in laws, policies, plans or strategies. Definitions that cover all marginalized groups are found in 57% of countries. In 17% of countries, the definition of inclusive education covers exclusively people with disabilities or special needs (GEM 2020)."
The term inclusion represents a commitment to make preschools, schools, and other education settings, places in which everyone is valued and belongs, and diversity are seen as enriching. Through inclusion, particular attention is geared towards groups of learners who, due to their gender, ability, ethnicity, religion, and social class, among others, are marginalised or are at risk of marginalisation (IBE-UNESCO, 2008). There are human rights (right to education), educational (better quality education for all through innovations driven by diversity of needs), social (learning in realistic, diverse, environment) and economic (less costly, better academic results) justification to inclusive education.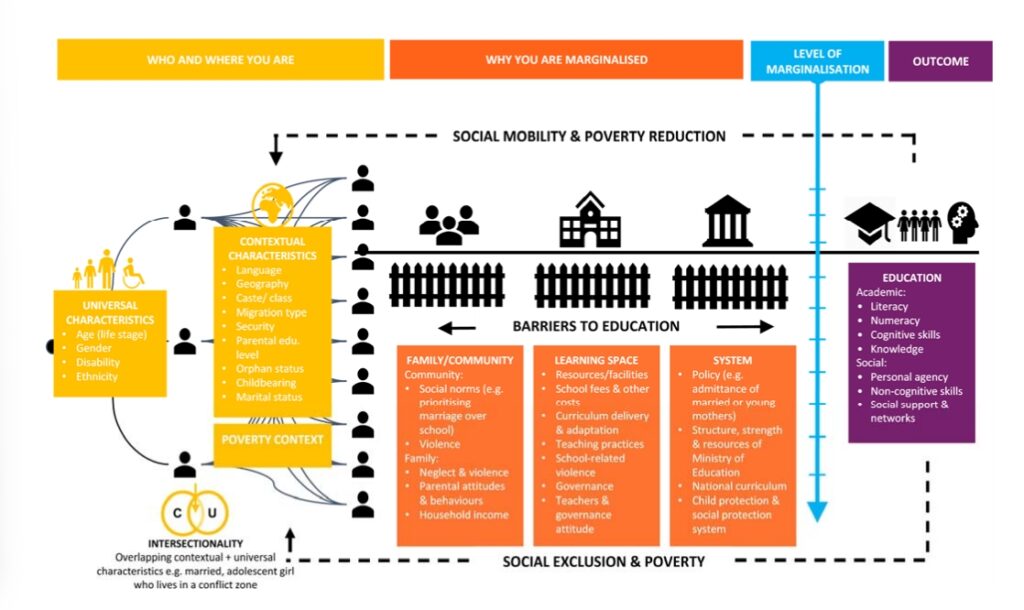 This description automatically generates the need to elimination of all forms of discrimination in the enjoyment of the right to education on grounds such as age, birth, caste, colour, descent, disability, documentation, ethnicity, civil, family or career status, gender identity, health status, or genetic or other predisposition toward illness, language, migration status, national or social origin, nationality, political or other opinion, parental status, pregnancy, property, race, religion, sex, sexual orientation, socio-economic disadvantage, statelessness, or other status' (The Abidjan Principle.)

Marginalization refers to the process of relegating people to a position of less importance – not allowing them to take full part in society, exercise their rights, or access services that are available to other.

Inclusion makes sense; economically, it's an efficient way to break the cycle of poverty, it's as cost efficient as segregation, but delivers better academic results. Inclusion leads to better quality education but also grows number of learners and socially, it is allowing us to learn to collaborate in diverse environments, both in school and in life.

Here we will be updating relevant resources on how to build and improve inclusion in education. If this page is missing from this website, let us know and we'll update it here!